There are tons of celebrities who are obsessed with social media, it is said to be one of their ways to keep up with their fans and connect with them. Some of them even try and post every single day on Instagram, Twitter, and Snapchat. Almost everyone is in social media, which then means that everyone, including celebrities are vulnerable.
Celebrities and Social Media
Social media is a place wherein people could literally share their thoughts and feelings. It is also a place wherein people may share tons of photos and videos they want their friends and family to see. Celebrities are no different, they could be addicted to it as much as their fans. However, since they're most likely verified, or people are ensured that it is actually their social media pages, it is then prone to hacks. There are people out there who are just amazing when it comes to technology that they could literally get into anyone's account and manipulate it from there.
This is something that most celebrities actually experience over the past few years. According to tech experts behind the photo-sharing platform, Instagram, hackers tend to try and go for high profile people, which are celebrities. Last year, the official Instagram account of singer and actress Selena Gomez, had to be taken down after it was hacked. She wasn't the only one though, tons of celebrities have been a victim of hacks, just like Adele, Beyoncé, Channing Tatum, Zac Efron, Rihanna, Taylor Swift, Emilia Clarke, Harry Styles and more.
Lili and Cole's Twitters Got Hacked
This time around it is the Twitter accounts of couple Lili Reinhart and Cole Sprouse. The two actually met on the set of their teen drama series Riverdale, which premiered at the beginning of 2017. Neither of them technically admitted that they are dating, but proofs of them being together all the time, such as on and off camera says it all. They are basically one of those celebrities who are always on social media, and post tweets and pics almost every single day.
They have been known for flirting heavily when exchanging and replying to each other's posts on Twitter last year. Their fans are definitely convinced that the two are indeed an item, because they have also been posting each other's pictures on their respective Instagram pages. This then led to grab the opportunity by hackers to infiltrate with the couple's Twitter accounts.
It was on Monday, when Cole Sprouse's Twitter was hacked and accused the former child star on participating in any malicious and inappropriate acts while he and his twin brother, were still working for Disney. This then led to his real-life girlfriend and Riverdale co-star, Lili Reinhart to call it out and said that Cole's Twitter account has been hacked and wondered why people keep on doing it. However, it wasn't exactly certain if it was Lili herself who tweeted that, since just two days after this incident, her Twitter has also been compromised.
Last Wednesday, Reinhart's fans were shocked when they found an alleged nude photo of the actress that was posted by a hacker. Obviously, her account was then hacked, not just her Twitter but also her own Snapchat. The hacker who posted the naked photo put the caption, "Shouldn't have talked sh—about us, here's to all lili fans found this masterpiece in iCloud. It was then found out that the photo of the nude woman was actually an adult film star and wasn't in fact Reinhart.
Once the actress' fans made sure that the they have called both Twitter and Snapchats attention to the issue, the said social media platforms immediately removed the said photo. Lili's sister have posted an Instagram story regarding the issue and said that the family are all aware of what happened and glad that things worked out and are still getting handled.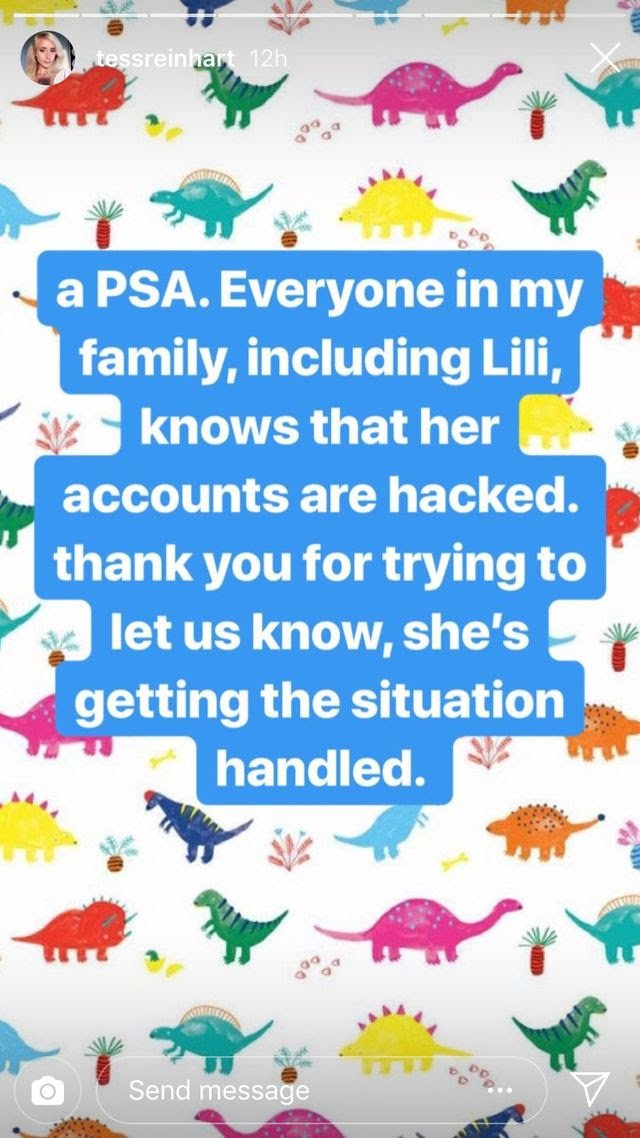 The members of the media has been trying to reach the couple's representative to give a statement regarding the hacking incident. This is because up till now, it is uncertain if they had manage to get access to both of their accounts and what exactly are the things they are doing to prevent this from ever happening again in the future.