According to the reports of E! News, Troian Bellisario is pregnant with her first baby and husband Patrick J. Adams. However, no public announcement was made by the Suits superstar.
It was further reported that the news of her pregnancy broke out when she was on vacation in Mykonos and hiding her baby bump. While commenting on whether they are planning for a baby or not Patrick told Entertainment Tonight that they talk about the baby all the time and they will announce it at the right time. He further said that they are very much in love and not going anywhere. Adams said that they are excited about everything that comes next.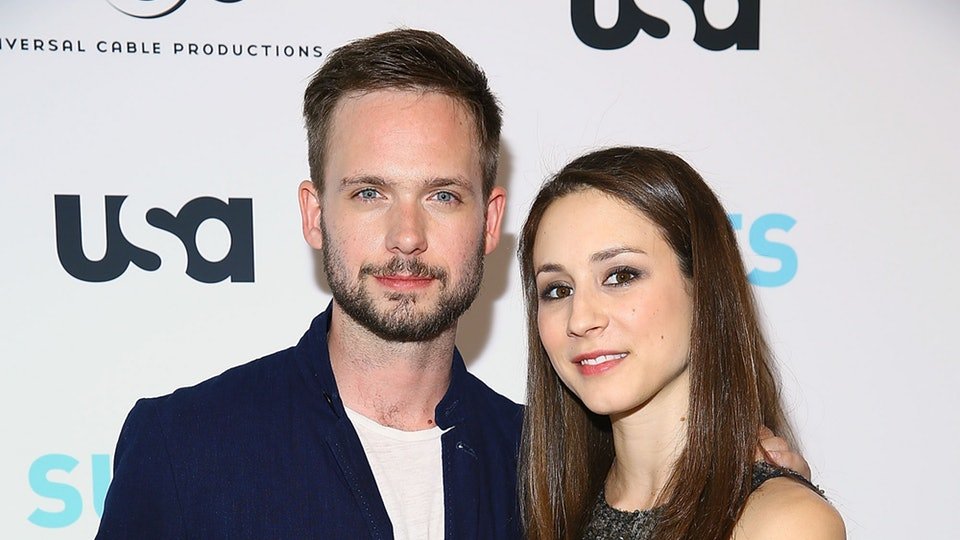 Their love story started in 2009 and then they got engaged in 2014 and finally got married in 2016. According to PEOPLE, the ceremony of their marriage that took place in California was a rustic-chic and major celebrities that attended the ceremony include Chris Pine, Ashley Benson, and Lucy Hale.
The couple was last seen publically during the wedding ceremony of Prince Harry and Meghan Markle in May. At that ceremony, Adam was accompanied by Abigail Spencer, Sarah Rafferty, Rick Hoffman, and Gina Torres. A night before the wedding ceremony, the star cast also had a dinner.  A video was also composed by Bellisario to cover the big day.
Video made by Troian to cover the wedding ceremony of Meghan and Harry.
Nowadays, both of them are busy with their upcoming movie "Clara" which is set to release at the Toronto International Film Festival. According to the reporters of E! News Bellisario and Admas were spotted by a photographer enjoying on a beach in Mykonos. Since their romantic holiday trip, the duo has limited photo sharing their photos on social media. Bellisario got famous from Pretty Little Liars – an American drama series. She acted with the star cast of Lucy Hale, Ashley Benson, and Shay Mitchell.
Patrick who is also an actor and played the role of college dropout in Suits is a resident of Canada. When they both first met in 2009, they also played together in "Equivocation". According to some reports, the duo broke up at some point in 2010 but reunited again.
When they got married in 2016, their marriage ceremony continued for three days in California's central coast. The couple who is yet to announce the news of the pregnancy in public spent their honeymoon holidays in Australia. The couple remained active on social media but they haven't seen on social media since they attended the wedding ceremony of Meghan and Harry.
Many people wonder how they got the invitation to the royal wedding and rightly so. Adams has played the role of Meghan's husband in Suits and has long-term relationships with her.
The love story of Troian and Admas is so cute that you will be amazed to know how quickly they get to each other. While giving an interview to HerWorldPlus.com, Adams said that they first met during a play called "Equivocation". He further said that they met during the romantic interest of the play and that was it.
In the beginning, their schedule was so hectic that it did not work out at first. After that, Adam decided to cast Troian in his show "Pretty Little Liars" and that was the only way he could know Troian better. He further said that they broke up in the beginning as they don't have enough time for each other.
But after that, he decided to take auditions for the role of guest on his show and that's when the idea sparkled his mind. From the last couple of months, the couple is avoiding to take photos but they haven't gone missing on the Instagram. Their recent social media activity includes the photos of their upcoming science fiction movie "Clara".
The official trailer of "Clara" featuring Adams as an astronaut and Troian as a research assistant.
According to Deadline, Troian is playing the role of a researcher who is named Clara while Admas is playing the role of an astronaut who is searching for life beyond earth. The due also posted the trailer for the movie three days before the pregnancy news broke out.