People get their fashion inspirations from their favorite celebrities. It is one thing celebrities must always make sure they focus on. They might be great at their line of work such as acting, singing or dancing, but if their fashion sense isn't there, then people would totally recognize it. As a celebrity it is a total must to have a sense of style, regardless of having a stylist or not.
During red carpet appearances in premieres or award shows, even just by stepping out to get coffee, people would check out what their favorite celebrities are wearing. Which is one of the major reasons why they have a bit of pressure when it comes to thinking what they should be wearing whenever they would go out in public. There are some celebrities who are known for making such bizarre fashion statements such as Lady Gaga, Miley Cyrus, Madonna, and more.
Blake Lively's Fashion Sense
However, there are celebrities that could actually pull off anything that you could throw at them. Just like Blake Lively, who basically started to show that she is indeed a fashion icon in the industry when she portrayed Serena van der Woodsen in the drama series Gossip Girl. Over the years, even after the series was over, Lively showcased that she is not just your ordinary blonde bombshell and that in fact, she could literally be sophisticated and incredibly alluring at the same time.
It is no doubt that she is interested in fashion, that is because she always makes it a point of go to fashion shows as well as slaying almost every red carpet event she goes to. Most people know that celebrities are just too busy to do everything which is why they often have stylists to help them find the perfect outfit and overall look for a certain event. It is perfectly normal, but then again, it turns out that the 30-year-old actress does not work with her own stylist at all. That is because she is, in fact, the only one who has been styling herself all these years.
In one of her most recent interviews, the mom of two actually admitted that since she has full control of what she will wear, it makes her become way more imaginative, even more so compared to acting. Lively said that it is a way of her showing how much she loves fashion and it is a way for her to become more aware of what she must and must not wear. The fact that she could just simply do her own and actually get to decide on every single piece of accessory, makes her feel independent as well.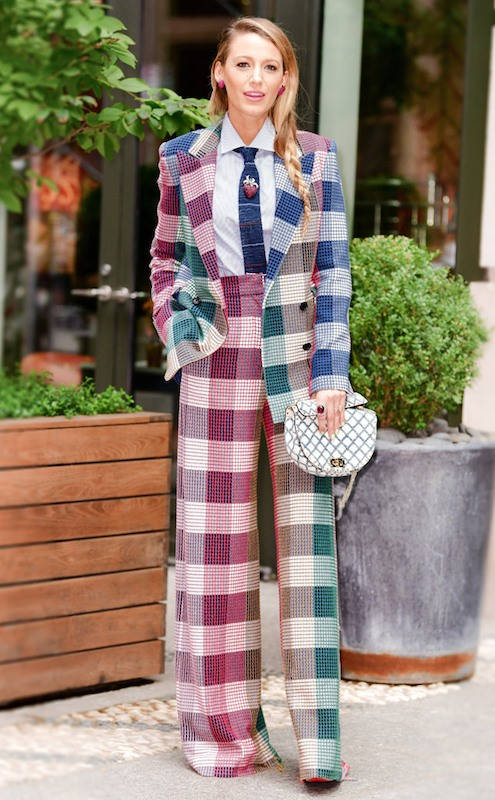 The actress also said that it is also the reason why she loves doing her friends' hair and makeup from time to time, and even when it comes to cooking. There may be rules but there are endless ways on how to get to the end, which make things even more exciting. One downside that she admitted she always goes through is to get the outfits she likes, even if she always go to fashions shows, the 30-year-old actress tends to have a hard time calling these clothes in, which is why she has an assistant to help her out with them. Usually, she simply gets them from the designers themselves or even pitches in what she thinks would look great and she simply loves doing it.
Slaying Man suits
Recently, the actress has been seen wearing something not every woman could wear, that is because they are usually worn by men. Lively has been out promoting her new film, A Simple Favor, which is why her street fashion from her tour wardrobe was noticed because of the style sequence that it has, and that is wearing suits. Just like what she wore last weekend, which is a neon green suit that screams being bold and fearless since not everyone could literally pull off that color. She even paired it with some colorful pointed shoes, a clean bun, and some turquoise earrings.
And her most recent one was from last night at the 2018 MTV Video Music Awards, wherein she wore an all-White fitted blazer paired with a super wide leg pants.